Indesit Freestanding I55RM1110W1 Fridge White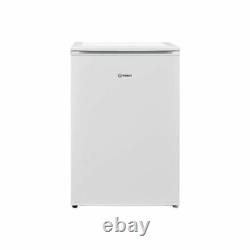 Indesit Freestanding I55RM1110W1 Fridge - White. Get more room for your frozen favourites with the Indesit I55RM1110W1 Fridge. Its 135-litre capacity gives you plenty of space for the whole family's food, from fresh vegetables to fresh meat.
Standard 1 year manufacturers guarantee against parts and labour and additional 10 year parts guarantee, providing the product has been registered. If you need any help or information about our products or if you have any questions then we are more than happy to help! We deliver to addresses in mainland England, Scotland, Wales and Northern Ireland only. If you're not 100% happy with your product, you can return it to us within 14 days (charges may apply). Indesit is operated by Whirlpool UK Appliances Limited.
2018 Whirlpool UK Appliances Limited: Company number 106725 Registered Address: Morley Way, Woodston, Peterborough, PE2 9JB.