Amica Fm1044 Free Standing Under Counter Fridge With Ice Box White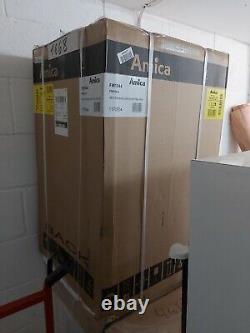 AMICA FM1044 FREE STANDING UNDER COUNTER FRIDGE WITH ICE BOX WHITE. THE ITEM IS IN BRAND NEW CONDITION. IT WAS BOUGHT FOR A JOB WHICH DID NOT FINALIZE.
The item can be opened and checked at collection so any description mistakes does not automatically make it returnable. SINCE EVERY REFRIGERATOR WORKS 24 HOURS A DAY, 365 DAYS A YEAR, THE ENERGY CLASS IS ONE OF THE KEY PARAMETERS WHEN COOLING APPLIANCES ARE CONCERNED. Not sure if the shelves can take a bigger load? Amica uses the SafetyGlass technology in its refrigerators - the shelves are made out of hardened glass, which not only increases their hardness and toughness, but also improve safety. Even if a shelf breaks, it will not fill the compartment with tiny pieces. Safety even with bigger loads!
DOOR BALCONIES IN A FRIDGE: 3 PCS. Fridges are equipped with various in-door balconies to maximize the use of space. Reversible door: can be mounted on the left or right side. The freezer drawer can be fully slid out when the door is open at a right angle.
No more wasted time and energy in defrosting the fridge! Automatic defrosting in Amica fridges ensure the frost melts and flows to a compartment in the compressor chamber, from where it evaporates. When there is no frost, there is no need to defrost, giving us more time to ourselves. When you open the door and the eggs fall out to smash on the floor - this won't happen as this fridge is equipped with a special egg tray! Separated from other products, they are protected from damage, and they always stay in place!
No more worry when opening the fridge! FRUIT & VEGETABLE CRISPER: 1 PCS. Fruit and vegetable crispers are a functional solution.
They allow different kinds of fruit and vegetables to be stored tidily. They also prevent the odours of aromatic products from escaping. Door balconies in a fridge. Includes 1 adjustable shelf and a 4 star rated ice box.
Net Capacity 79 litres in Fridge and 7 Litre Capacity in Freezer. Dimensions (cm) H84 x W48 x D51.